UPCOMING EVENTS:
Saturday April 7, 2018 7:30 am -10:00 am Oakdale United Methodist Men breakfast, 3425 Emory Church Road, Olney, MD 20832. Directions
Saturday April 21, 2018 Oakdale Church 3425 Emory Church Road, Olney, MD 20832. Redeem Rebuild Restore one-day conference for those living and working with teens (parents, grandparents, youth workers, counselors, etc.).  Nationally recognized speakers. Directions
PREVIOUS EVENTS:
Saturday October 28 House of Hope Yard Sale 17826 New Hampshire Ave, Aston Md
 Sunday September 24, 2017 Speak at Layhill Community Church, 10:00 am, 1916 Bonifant Road, Silver, Spring, Maryland
Monday, September 18 Speak to Beta Sigma Phi Women's Group (closed event)
Wednesday August 23, 2017 Fundraiser at El Andariego Restaurant.  Thank you to everyone who supported us!
Tuesday August 1, 2017  Participated in two National Night Out events: Olney and Silver Spring.
Thursday July 20, 2017  Featured non-profit at Bethesda Big Train Baseball.
Thursday June 8, 2017  Do More 24Sunday April 30, 2017  Presentation at Ashton United Methodist
Thursday March 9, 2017 Open House Celebration
Tuesday March 28, 2017 Presentation at United Methodist Men, Oakdale Church, Olney, Maryland (7:30 pm)
Saturday April 1, 2017 Breakfast Fundraiser – Oakdale Church, Olney 7:30 am – 9:30 am
Fall 2016
"God is on the move, on the move
Hallelujah
God is on the move, in many mighty ways"
(Song by 7eventh Time Down)
That's what we are singing, because God is on the move at House of Hope Maryland!
Hallelujah because:
Ashton Baptist Church has partnered with us to house our day school program!
Hampshire View Christian School donated student desks and a testing center for House of Hope Day School!
Randall Gardner refinished all the donated furniture for his Eagle Scout project!
We have hired Kim M. as our teacher!
Our new office has been painted, carpeted, internet /telephone system hooked up and furniture will be moved in shortly!
We had a wonderful fall fundraiser, Threads of Hope Fall Fashion Show, with a powerful testimony from Cora, a graduate of the House of Hope program.
We were honored to have the First Lady of Maryland, Yumi Hogan, attend the Threads of Hope Fundraiser as our special guest.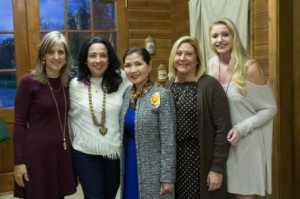 House of Hope Maryland Day School is planning to open its doors Winter 2017!
Thank you for your faithfulness to House of Hope Maryland!   Your prayers are being answered!  Our prayers are being answered!    
Hallelujah for God's mighty moves!!